Noh Ho-young (left)
A men's singles player, and Kim Yoo-jin, a women's singles player, won back-to-back titles at the 67th Jangho Hongjong Munbae Junior Tennis Tournament, 토토사이트 which concluded on Friday.
Noh Ho-young (17, Osan GS) and Kim Yoo-jin (18, Ansan TA) won back-to-back titles in the men's and women's singles at the Jangho Hongjong Munbae Junior Tennis Tournament, a showdown of Korean tennis dreams.
Noh defeated Lee Woong-bi (18, Seo Incheon High School) 2-0 (6-3, 6-0) in the men's singles final of the 67th Jangho Bae on Friday at the Myeongji Indoor Tennis Center in Yongin.
Lee Woongbi
Noh, who also defeated Chung Yeon-yeon (16-JWON TA) 2-0 in the final last year, 스포츠토토 became the eighth player in the history of the Janghoe men's singles to win back-to-back titles.
Last year, Noh was selected as the second Jangho Next Generation Scholar sponsored by the Jangho Tennis Foundation.
The foundation provides Next Generation Scholars
with an annual travel stipend worth 50 million won to compete in overseas tournaments. Jang Joon Kim (17-Sinkron TA), the first Jangho Next Generation scholar, was seeded first and Ho Young Noh was seeded second.
However, Kim fell 0-2 (4-6, 4-6) to Jung in the first round of the tournament, so the 'Scholar Derby' will have to wait until another time.
In the women's singles final on the same day, Kim Yoo-jin defeated her teammate Choi On-yu (17) 2-0 (6-2, 7-6) to complete her second straight victory.
Kim, who gained experience in major junior tournaments by qualifying for the Australian Open and French Open this year, will graduate from the junior ranks this year and begin her adult tour challenge next year.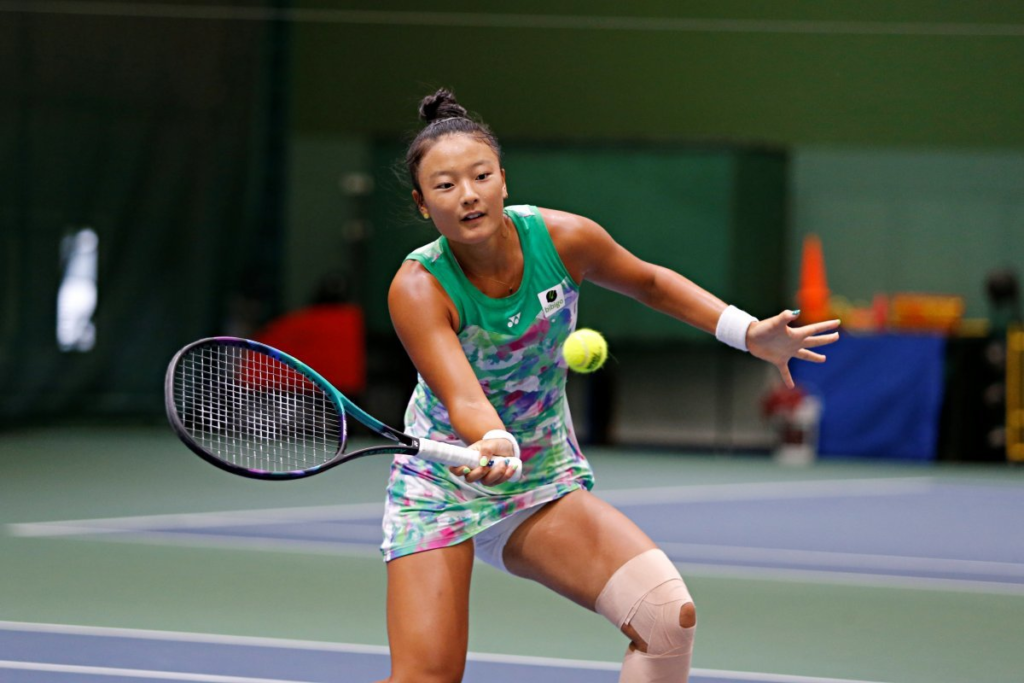 Choi On-Yu
The Jang Ho Bae was founded in 1957 with the aim of identifying and developing outstanding junior tennis players at an early age.
Now in its 67th year, the Jang Ho Bae is the only invitational junior tournament in Korea.
The winners and runners-up of the 67th Jangho Bae Tournament, including the men's and women's champions, pose for a photo with their families and foundation officials, including Soon Mo Hong, honorary chairman of the Jangho Tennis Foundation (second row, third from left).
The Jangho Tennis Foundation was established in 2000 by the bereaved family of Hong Jong-moon, former president of the Korea Tennis Association, following his death in 1999.
Current Korean men's tennis 'signature' Kwon Soon-woo (26-Dangjin City Hall) won the 59th Jangho Bae in 2015, while the 58th edition in 2014 was won a year earlier by Australian Open quarterfinal hero Chung Hyun (27).
Almost all of the players who have made Korean tennis history, including Lee Deok-hee (30 titles), Lee Hyung-taek (37 runner-ups), and Jeon Mi-ra (37 and 38 titles), 스포츠토토맨 have competed in the tournament.